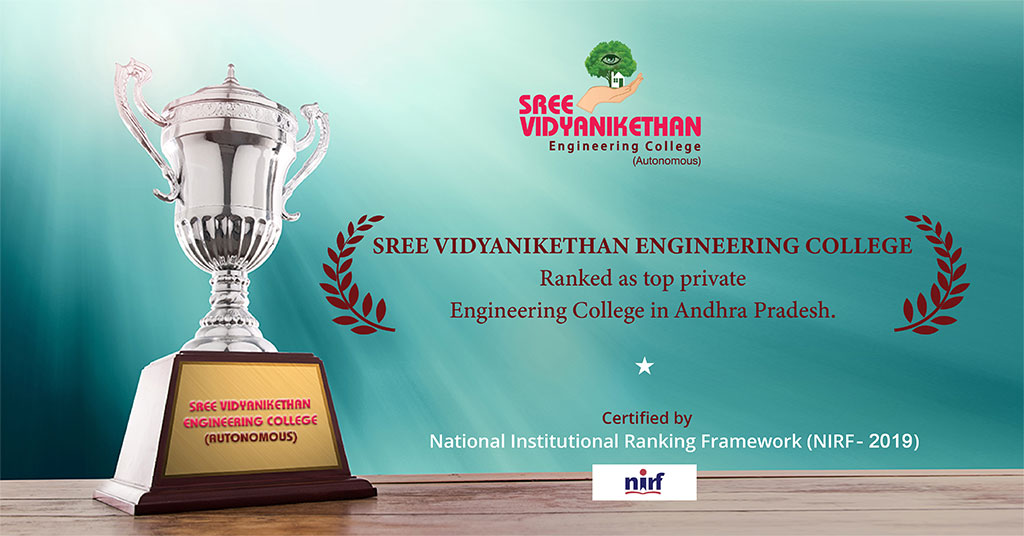 Top Private Engineering College in Andhra Pradesh, India
Sree Vidyanikethan Engineering College is proud to be ranked as Top Engineering College in the state by NIRF, Government of India. The College has been ranked 167 in the NIRF ratings for the year 2019. The rank is the best one among the Private Engineering Colleges in Andhra Pradesh. The rank is awarded based on the overall recommendations broad understanding arrived at by a Core Committee set up by MHRD, grounded on the broad parameters such as "Teaching, Learning and Resources," "Research and Professional Practices," "Graduation Outcomes," "Outreach and Inclusivity," and "Perception".
The National Institutional Ranking Framework (NIRF) outlines a methodology to rank institutions across the country, adopted by the Ministry of Human Resource Development (MHRD), Government of India. The framework ranks institutions of higher education in India on an annual basis. It was approved by the MHRD and launched by Minister of Human Resource Development in 2015. NIRF provides separate rankings for different types of institutions depending on their areas of operation like universities and colleges, engineering institutions, management institutions, pharmacy institutions and architecture institutions. The Framework uses several parameters for ranking purposes like resources, research, and stakeholder perception. These parameters have been grouped into five clusters and these clusters were assigned certain weightages.
Honorable Chairman of Sree Vidyanikethan Educational Trust, Dr. M. Mohan Babu, and revered CEO Mr. Vishnu Manchu congratulates the students, staff, member of faculty and other prime stakeholders on this achievement.